Insights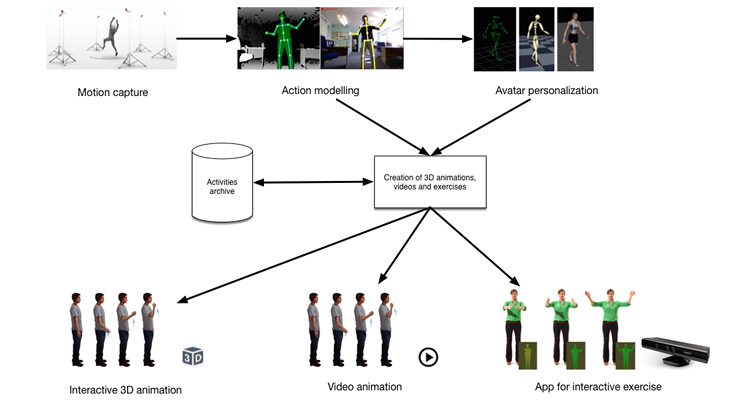 The correct execution of instructions received by patients following medical procedures is crucial for the success of therapeutic activity, however the patient's understanding of these instructions is often problematic, whether due to the intrinsic complexity of the actions that must be executed or due to the linguistic and cognitive status of the patients themselves. Indeed, everyday language can be very ambiguous and the more activities must be precisely defined for their effectiveness the more language complexity grows.
Moreover this activity is both time consuming and frustrating for medical staff that must devote an important part of their time to give instructions which are often repetitive. Furthermore, the monitoring of how instructions are performed and the patient's response to treatment is a costly process for all parties involved (patients, family, the health care system), and is a frequently neglected part of the therapeutic process for this reason.
The IMAGACT-MED project envisions the development and testing of a system prototype that gives e-health support to instructing and monitoring activities. The system takes advantage of the communicative potential of 3D animation and augmented reality methods and is dedicated to both the production of medical instructions for patients and the verification of their correct execution, either remotely or in the hospital itself.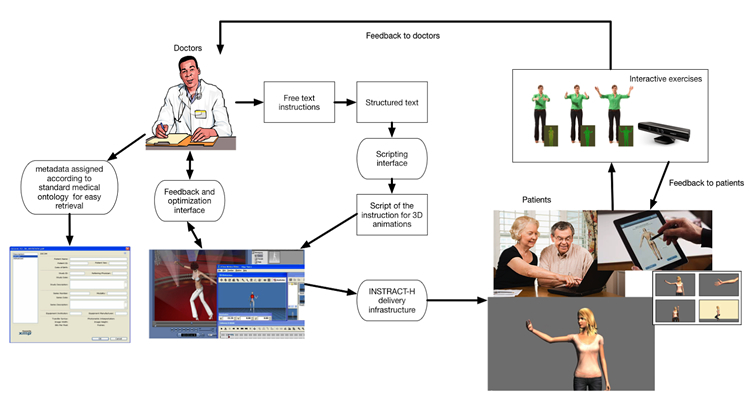 IMAGACT-MED combines the potential of computer vision technology and haptic devices with language technology to develop new communication paths in health services. The use of visual communication by means of 3D animation will allow complex medical instructions in a simple manner, avoiding communication deficits such as insufficient understanding of a given language, which is a crucial issue in multicultural societies.
Use of low-cost motion capture devices will allow the verification of the correct execution of exercises by the patient and will simplify follow-up procedures.
More info HERE (presentation poster).